25 February
@
2:00 pm
–
5:00 pm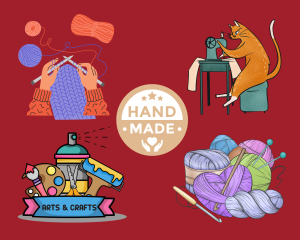 Over the last decade or so, we have all at some point or another, had occasion to question and assess the sustainability of the way we consume, work and generally live our lives. In the drive towards sustainability, we have been encouraged to recycle, upcycle, repair, do-it-ourselves, and generally make do and mend rather than buying new. As a result, knitting, sewing and other crafts have grown in popularity, right across the globe. And if it's global, it's multilingual – and that's where we come in.
Like all our Social Saturday events, this get-together will primarily aim to provide a welcoming and relaxed atmosphere for all crafters – both experts and novices – to meet up and swap needles and vocabulary tips over a cup of tea.
Are you an experienced crafter? Please bring your best work and showcase your skills for other members.
A novice, but keen to learn? This is a chance for you to pick up a few tricks and try your hand at something new. Some material will be provided but do bring along any project you need help with!
Knitting is a very technical subject and can be challenging in translation, with many obscure abbreviations and tricky measurements. Anne de Freyman, who is currently translating the Vogue Knitting book from English to French, will talk about the specific challenges which the project presents. A keen knitter herself, she will be joined by other wool crafters and make-your-own enthusiasts.
Whether you are creative or not, are keen to learn about crafts, or just want to know more about the translation of knitting patterns and other related texts, please join us for a convivial afternoon at the YHA in Manchester.
As usual, tickets to our Social Saturdays are £5 (+ Eventbrite fees), please book your place on Eventbrite
Don't forget that you can volunteer (either prior to or during the event) to write a review for it. Your write-up will be published on our blog, and you will get a FREE TICKET to any Social Saturday event! To volunteer, please email Laurence Bisot (chair@nwtn.org.uk) or Katell Sevellec (katell@nwtn.org.uk) ASAP or let us know on the day – but hurry, there's only one ticket up for grabs!
Please note that the venue for this event has changed. It is now at YHA Manchester.