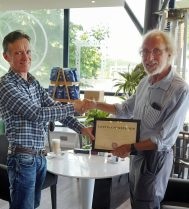 Three months on from our memorable 35th anniversary dinner, one final task was completed to round off these celebrations: the handing-over of a life membership certificate to express the NWTN's gratitude to its founder member, Rod Riesco MITI.
Rod was unable to attend the dinner for health reasons, so he missed out on receiving his certificate alongside co-founder Norbert Hermann MITI, but this omission has now been rectified
Rod is remarkably modest about the extent of his achievement ("I feel a bit of a fraud", he says) but there is no denying that the lineage of the NWTN can be traced back to his door. In his early days as a translator, after changing career from librarianship, he decided (in the pre-online world of the 1980s) to place an advert in the Translators' Guild Newsletter and in Manchester Central Library, asking translators based in our region to contact him with a view to forming a "mutual support group".
As the saying goes, "great oak trees from little acorns grow", and nearly four decades later, Rod's baby – which was christened (the) NWTN – is a thriving organisation with around 200 members. Few of them have ever met Rod, as he has not been an active member for some years now. He recalls how – at an IT training session he attended at the Manchester YHA around 20 years ago – he was taken aback by a committee member from the old days who stood up, addressed the group and explained who this "Rod Riesco" in their midst was, before urging the members present to introduce themselves to him afterwards, beginning with the words "hello Daddy…".
It was my pleasure and my privilege to present this life membership certificate on 8 August, and to say, on behalf of all our members, "thank you, Rod, for creating the NWTN".
---